Leave Behind a Cleaner World (Along with Your Worldly Possessions)
We at Estate Law Partners, LLC try to be environmentally responsible. All of our wills and trusts are printed on 100% post-consumer recycled paper. Green Seal Certified and carbon neutral, our paper is made using 100% Certified Renewable Electricity. The acid-free archive quality bond is from Wisconsin, so it does not need to travel far before ending up as our clients' legal documents. It also will not yellow or degrade over time.
Every year, just by our use of this paper, we save more than four trees, over 1400 gallons of fresh water, 980,000 BTUs of energy, 86 lbs of solid waste and 296 lbs of emissions. We are a comparatively small operation, but each year as we grow, you can be sure we are keeping our footprint small.
When planning for your legacy, don't leave behind a wasteful estate plan; plan with us and help leave a cleaner world to future generations.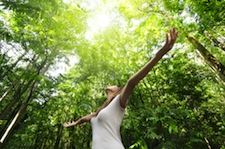 Sure, our paper is more expensive than other papers, but our clients and our earth are worth it.
We spend our days helping clients transition wealth to future generations through trusts and other planning. It is only proper for us to do whatever we can to leave a beautiful place for them to enjoy that wealth. What is more valuable than a healthy environment in which to live?
Estate Law Partners, LLC prides itself in protecting the environment by investing in carbon offsets while using paper that is 100% recycled post-consumer, sugar cane, or cotton for all documents.
Carbon offsetting is the process of limiting carbon emissions and/or the implementation of carbon reducing projects such as forestation. Estate Law Partners, LLC has partnered with www.CarbonFund.org to offset the carbon produced from our:
Paper
Employee Commute
Office Emissions
Business travel
Hosted events
Our contributions have gone towards the conservation of the rain forest in Acre, Brazil, reforestation of the Alluvial Valley in Mississippi, investments in renewable energy and efficiency projects. So far we have reduced our carbon footprint to less than zero by offsetting 39.5 tonnesof carbon.

What are simple ways to reduce your carbon footprint?
All vehicles should have fully inflated tires and maintained oil, air, and fuel filters.
Instead of junking old electronics, consider recycling them through the Environmental Protection Agency here: https://www.epa.gov/smm/electronics/index.htm
Ride a bike if possible, it's also good for you.
It's our planet, and our responsibility. Climate change is real, but so is the effort to stop it. Implementing eco-friendly efforts secure a healthy world, allowing our clients to leave their assets to future generations.